조회 수 803 추천 수 0 댓글 0
Consider all the leaves of a binary tree. From left to right order, the values of those leaves form a leaf value sequence.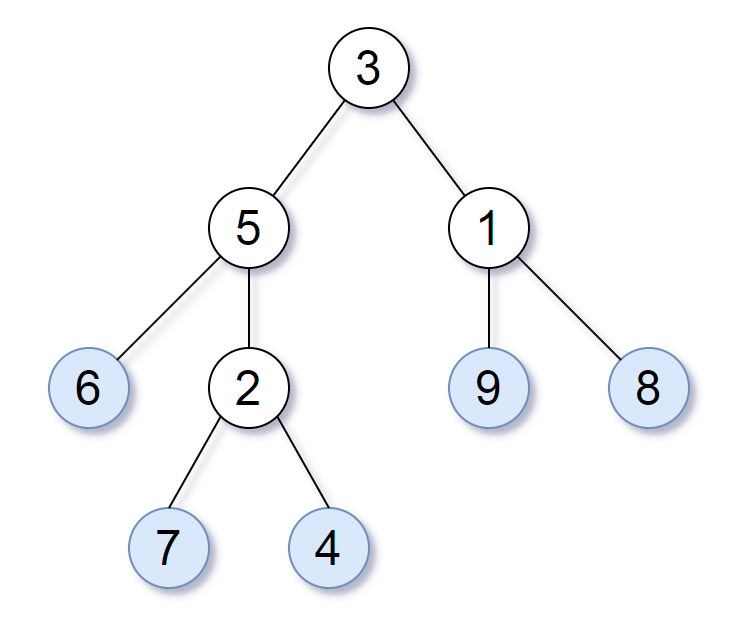 For example, in the given tree above, the leaf value sequence is (6, 7, 4, 9, 8).
Two binary trees are considered leaf-similar if their leaf value sequence is the same.
Return true if and only if the two given trees with head nodes root1 and root2 are leaf-similar.
Constraints:
Both of the given trees will have between 1 and 200 nodes.
Both of the given trees will have values between 0 and 200
/**
 * Definition for a binary tree node.
 * public class TreeNode {
 *     int val;
 *     TreeNode left;
 *     TreeNode right;
 *     TreeNode() {}
 *     TreeNode(int val) { this.val = val; }
 *     TreeNode(int val, TreeNode left, TreeNode right) {
 *         this.val = val;
 *         this.left = left;
 *         this.right = right;
 *     }
 * }
 */
class Solution {
    public boolean leafSimilar(TreeNode root1, TreeNode root2) {
        List<TreeNode> list1 = new ArrayList<>();
        List<TreeNode> list2 = new ArrayList<>();
        
        findLeaves(root1, list1);
        findLeaves(root2, list2);
        
        if(list1.size() != list2.size()){
            return false;
        }
        
        int loop = list1.size();
        for(int i=0; i<loop; i++){
            TreeNode node1 = list1.get(i);
            TreeNode node2 = list2.get(i);
            //System.out.println(node1+" == "+node2);
            if(node1.val != node2.val){
                return false;
            }
        }
        
        return true;
    }
    
    public void findLeaves(TreeNode node, List<TreeNode> list){
        if(node == null){
            return;
        }
        
        findLeaves(node.left, list);
        findLeaves(node.right, list);
        
        if(node.left == null && node.right == null){
            list.add(node);
        }
    }
}
[문제] https://leetcode.com/problems/leaf-similar-trees/
---
List of Articles

| 번호 | 분류 | 제목 | 글쓴이 | 날짜 | 조회 수 |
| --- | --- | --- | --- | --- | --- |
| 77 | Leetcode | 720. Longest Word in Dictionary | hooni | 2020.05.07 | 1052 |
| 76 | Leetcode | 225. Implement Stack using Queues | hooni | 2020.05.05 | 870 |
| 75 | Leetcode | 56. Merge Intervals | hooni | 2020.05.05 | 824 |
| 74 | Leetcode | 844. Backspace String Compare | hooni | 2020.05.05 | 906 |
| 73 | Leetcode | 222. Count Complete Tree Nodes | hooni | 2020.05.05 | 845 |
| 72 | Leetcode | 697. Degree of an Array | hooni | 2020.05.05 | 901 |
| 71 | Leetcode | 605. Can Place Flowers | hooni | 2020.05.05 | 824 |
| 70 | Leetcode | 724. Find Pivot Index | hooni | 2020.05.05 | 835 |
| 69 | Leetcode | 448. Find All Numbers Disappeared in an Array | hooni | 2020.05.05 | 826 |
| 68 | Leetcode | 628. Maximum Product of Three Numbers | hooni | 2020.05.05 | 794 |
| 67 | Leetcode | 532. K-diff Pairs in an Array | hooni | 2020.05.04 | 866 |
| 66 | Leetcode | 897. Increasing Order Search Tree | hooni | 2020.05.04 | 817 |
| » | Leetcode | 872. Leaf-Similar Trees | hooni | 2020.05.04 | 803 |
| 64 | Leetcode | 876. Middle of the Linked List | hooni | 2020.05.04 | 797 |
| 63 | Leetcode | 203. Remove Linked List Elements | hooni | 2020.05.04 | 785 |
| 62 | Leetcode | 997. Find the Town Judge | hooni | 2020.05.02 | 844 |
| 61 | Leetcode | 270. Closest Binary Search Tree Value | hooni | 2020.05.01 | 797 |
| 60 | Leetcode | 687. Longest Univalue Path | hooni | 2020.05.01 | 836 |
| 59 | Leetcode | 783. Minimum Distance Between BST Nodes | hooni | 2020.05.01 | 865 |
| 58 | Leetcode | 235. Lowest Common Ancestor of a Binary Search Tree | hooni | 2020.05.01 | 894 |